CURRENT PROMOS
Business Cards |
Postcards |
Banners |
Quote |
Contact Us
Yard Signs
Lawn signs are a great way to promote a fundraising event, a new business opening, a going out of business sale, a local event, political campaign, etc.
Learn more
15% OFF
YAR15
Booklets (Self Cover)
Saddle-stitched booklet printing is a professional and efficient way to showcase all of your products and services. We use professional and high-quality mate...
Learn more
10% OFF
BSC10
Short Run Business Cards
Business cards are a powerful sales tool and an excellent way to communicate key messages about your products and services. Our business card printing...
Learn more
10% OFF
SBC10
Vinyl Stickers
Increase your brand identity and exposure in a countless number of ways by using attractive labels. All of our labels are created using high-quality material...
Learn more
10% OFF
VIN10
Large Format Posters
Full-color posters and signs attract the viewer's attention. Posters are useful for storefronts, sales, new product introductions, trade shows, events, gifts...
Learn more
10% OFF
LFP15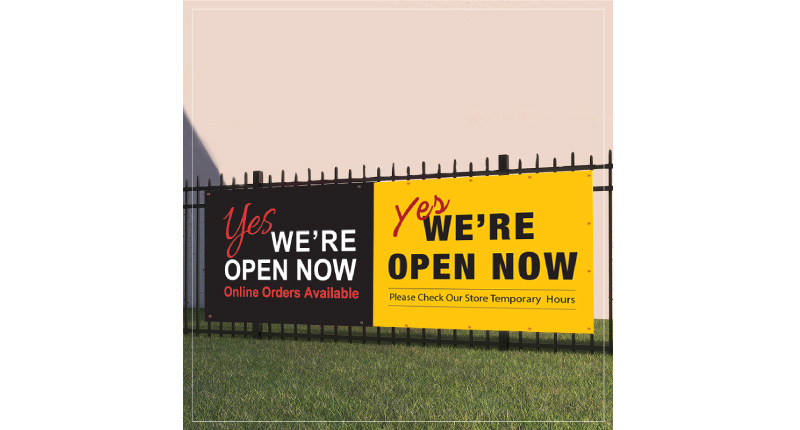 Outdoor Banner
With a maximum width of 10 feet and a maximum length of 100 feet, our custom vinyl banners are hard to miss and easy to love, whether you intend to use...
Learn more
10% OFF
ODB10
Acrylics
Acrylic offers clear, glass-like brilliance and translucence, but is much lighter and much more durable than glass for handling and transportation....
Learn more
15% OFF
ACR15
Brochures And Menus
Brochures make a great marketing tool, and a professional way to introduce your business. Send us your artwork. We'll send you a PDF proof to review and appr...
Learn more
10% OFF
BRO10
Short Run Postcards
Like a flyer, postcards are cost-efficient marketing materials used to spread the word to a targeted mailing list. They can be printed full color with your...
Learn more
10% OFF
SRP10
Adhesive Vinyl
With the ability to be employed in any number of situations for both new and established businesses, white vinyl signage is the ideal way to advertise new...
Learn more
10% OFF
ADH10
Magnets
With a quality car magnet, just about any type of vehicle can be effortlessly transformed into an affordable, mobile billboard for your business. A bold and ...
Learn more
10% OFF
MAG10
PVC Signs
Custom PVC signs are affordable ways to advertise your business or user as informational guidance. They are made for indoor and outdoor conditions and they ...
Learn more
10% OFF
PVC10